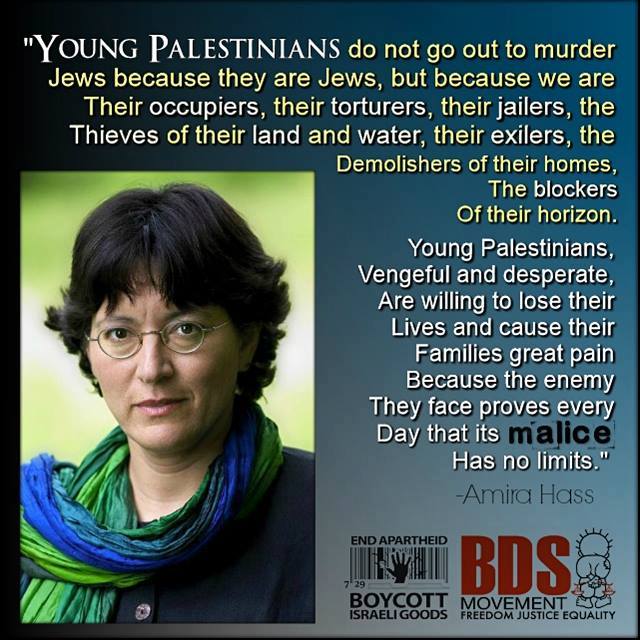 By Amira Hass, Haaretz Newspaper
The goal of this unilateral war is to force the Palestinians to give up all their national demands in their homeland. Netanyahu wants escalation because experience so far has proved that the periods of calm after the bleeding return us not to the starting line, but rather to a new low in the Palestinian political system, and adds privileges to the Jews in Greater Israel.
Privileges are the chief factor that distorts our understanding of our reality, blinding us. Because of them, we fail to comprehend that even with weak, "present-absent" leadership, the Palestinian people — scattered in its Indian reservations — will not give up and will continue to find the strength necessary to resist our malicious mastership.

The Palestinians are fighting for their lives, in the full sense of the word. We Israeli Jews are fighting for our privilege as a nation of masters, in the full ugliness of the term.
That we notice there's a war on only when Jews are murdered does not cancel out the fact that Palestinians are being killed all the time, and that all the time we are doing everything in our power to make their lives unbearable. Most of the time it is a unilateral war, waged by us, to get them to say "yes" to the master, thank you very much for keeping us alive in our reservations. When something in the war's one-sidedness is disturbed, and Jews are murdered, then we pay attention.
kill/#sthash.ueG4CQRI.2OnjZ1Qx.dpufread more: http://www.haaretz.com/opinion/.premium-1.679129
IDF soldiers are called on to kill Palestinian children.  Nothing bad will happen to you, they are told, if you tear the body of a fleeing Palestinian teenager to shreds by firing three bullets at him from short range – your commanders and Yair Lapid will cheer you. Shoot the stone throwers with no fear, shoot anyone suspicious, as long as he is Palestinian.
The rules of engagement are updated accordingly. With the IDF  shamelessly issuing licenses to kill signed by the Military Advocate General, what is permitted to the Binyamin Division commander is now permitted to any soldier.
Thus, there is no longer any need to deceive the public with the farce of investigating soldiers charged with executing children.
See more at:  http://www.daysofpalestine.com/features/ israeli-army-giving-soldiers-license-